Ethical and eco-conscious attitudes of customers around the world have played a part in the increasing popularity of lab-created diamonds. Many consider lab grown diamonds environmentally safer as well as easier and cheaper to produce than natural diamonds. Therefore, celebrities have also embraced these diamonds. Here, we will discuss some celebs with artificial diamonds as part of their fashion statements.
Leonardo DiCaprio
Actor DiCaprio has not yet been out in public with lab-made diamond rings or other artificial diamond jewelry. Nonetheless, it is worth mentioning the actor here as he is among the best-known artificial diamond industry investors.
In 2006, he played a role in the film Blood Diamond, about the hazards of diamond mining. It made him support artificial diamonds instead of mined diamonds. Nine years later, the actor invested in a lab-made diamond company.
Kate Winslet
Actor Winslet once wore a beautiful blue gown and an artificial diamond tennis bracelet as she walked the red carpet. She mixed the minimal and delicate bracelet with diamond drop earrings, which made her look exquisite.
A tennis bracelet is known for its minimal and stunning appearance, with gemstones embedded into it. Companies usually use artificial diamonds in the bracelet, but other gemstones are available too. The jewelry piece served as a perfect complement to the dazzling appearance of the actor.
Zoë Kravitz
Actor Kravitz chose a stylish approach for her 2019 Met Gala ceremony theme, which simulated theatricality, exaggeration and extravagance. The actor appeared beautiful in her sequined black outfit with strategically made cut-outs.
The actor paired her stunning look with diamond studs. Her Met Gala jewelry, made of pearls and artificial diamonds, had a beautiful feathery pattern.
Billie Eilish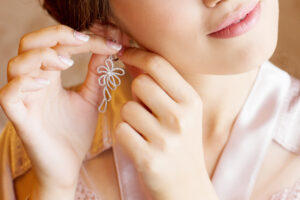 A tennis bracelet can add some amount of magnificence to a celebrity's look. Take the look of singer Eilish, for instance. For an exemplary style, you can choose and blend different yet complimentary items, like bangles, bracelets, and rings of various sizes and shapes.
Lady Gaga
The singer and actor has always looked to contribute to society through her humanitarian endeavors. During the recent Star Is Born movie premiere, Gaga was spotted with a stunning gown that featured a beaded corset and ruffled collar.
The actor paired her beautiful attire with diamond earrings for the 2018 movie premiere. Her pair of earrings featured nine artificial diamonds with superb cuts and some freshwater pearls.