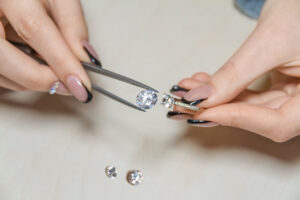 Emerald cut diamonds are a one-of-a-kind and exquisite cut. An emerald cut diamond is essentially a step cut, unlike other brilliant cut diamonds.   Emerald cuts contain narrow rectangular facets that look like stairs or steps, as opposed to the conventional kite and star-shaped facets found in other diamond cuts.
The glitter and brilliance of these step-cut facets are present, but it is more subtle. Because of their lengthy, beautiful body, emerald cuts have a lot of attractiveness. Also, the emerald shape allows the diamond to appear larger than others. As a result, it's an ideal candidate for the perfect engagement ring.
According to expert jewelers, the emerald cut can handle color much better than other diamond shapes. That means you can choose a lower color grade emerald diamond for your engagement ring without any problem. In addition to that, it will help you to have a diamond ring of lower cost if you buy a diamond with a lower color grade.
Popularity Of Emerald Cut Diamond
The past few years have seen a significant rise in the popularity of emerald cut diamonds among people all over the world. According to recent surveys, millennials who are buying lab-grown diamonds also prefer emerald shapes these days. If you check their origin, you might find that emerald cut was first created centuries ago but their clean and sleek look made them very popular today.
Origin Of Emerald Cut Diamond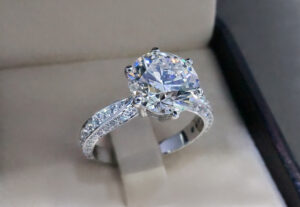 You can trace back the origin of emerald cut to the 16th century. The emerald diamond cut gained popularity throughout time as a result of its ability to lessen cutting pressure. As a result, the jewels were not chipped. The name "emerald cut" became official in the 1920s. The emerald cut was quite fashionable at the time. The development of Art Deco drew even more attention to this cut. Because the trend's sleek design and symmetry were so popular, many individuals purchased emerald-cut diamond jewelry to match.
Which Settings Are Better For Emerald Cut Diamond?
Emerald cut diamonds will work with a wide range of diamond settings. Simple solitaire and dazzling halo settings, on the other hand, are two of the most popular setting alternatives for these diamonds. Emerald cut solitaire engagement rings highlight the center stone's elegance, while an emerald cut with a diamond band is a sleek and subtle option for the minimalist woman.