Diamonds grown in laboratories are the new fad. They are touted as eco-friendly and pocket-friendly substitutes for naturally mined diamonds. Ornaments made of lab grown diamonds in modern designs at an affordable price tag are attracting more millennials and younger buyers to the diamond market.
The lab grown diamond industry is predicted to double its current market by the year 2025. Although now only a small percentage of the total diamond market is occupied by man made diamonds, odds are looking to be in favor of this industry as more and more jewelers and high-end design houses are accepting the quality, versatility and relevance of lab grown diamonds.
Consistent Growth
Countries like the U.S.A are leading consumers of lab grown diamonds, followed closely by others like Australia, Europe, China and India. It is worth mentioning that these are some of the biggest consumer markets for not just diamonds, but almost all commodities. Acceptance of lab made diamonds in such markets is bound to increase the production and sales of diamonds and other gemstones in a consistent manner. Countries like Japan and Korea are also following suit by taking interest in the prospective market of lab grown diamond ornaments.
In Demand Diamonds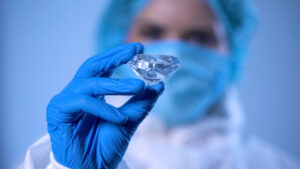 Large sized diamonds have always been in demand, mainly as center pieces of engagement rings and necklaces. Colored diamonds made in laboratory conditions are also experiencing a huge rise in sales. Diamonds and other gemstones that have not undergone any color enhancement or post-growth treatment are more in demand.
The fact that lab grown diamonds have the exact same crystal structure and chemical composition as a naturally mined diamond, is helping a lot in the sales of these diamonds. They are also as sturdy and durable as natural diamonds. Lab grown diamonds also have natural inclusions exactly like the ones formed under the earth. Hence, considering the 4Cs, the color, carat, clarity and cut are equally important when buying either category of diamonds.
The glaring difference in the price of natural and man-made diamonds is yet another factor that has contributed to the popularity of lab made diamonds. A buyer can get a man-made diamond of the same cut, clarity, color and carat as that of a naturally mined diamond at around 40% to 50% less cost.
The choice to go with a natural diamond or a man-made diamond for their precious jewelry is one made by the buyer based on their own criteria like the cost involved and their emotional investment in the piece of jewelry.