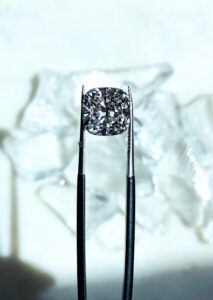 Reality TV personality Simon Cowell is getting married to his lover Lauren Silverman. For your information, Silverman is a socialite and Cowell is the creator of the TV show known as 'America's Got Talent'. According to the paparazzi, Cowell gave Silverman a stunning engagement ring set with an oval-cut diamond and a couple of side stones. It is among the most remarkable celebrity diamond rings of this or any other year.
It appears that the diamond weighs about 20 carats as well as has a D color grade and a value of around $2.50 million. As per a Daily Mail estimation, however, the oval diamond ring not only weighs 15 carats but also has a D color grade and a value of $3.40 million.
If one of those estimates is right, Silverman's jewelry piece would be the costliest celebrity engagement ring that we have come across in the last 12 months. In any case, it is among the priciest celebrity engagement rings of the last decade.
More About Oval Diamonds
Oval-cut diamonds have long been all the rage in celeb engagement jewelry. Kourtney Kardashian also has an oval diamond engagement ring, with a delicate pave band and a simple setting. The design of Silverman's engagement ring is similar to the ring that singer Blake Shelton gave to singer-songwriter Gwen Stefani. The engagement ring of Stefani lacks an oval-cut diamond but has a large centerpiece and side stones.
It is worth noting that Stefani and Kardashian's centerpiece diamonds weigh about 8 carats. It means that the carat size of both engagement rings together falls short of that of Silverman's ring.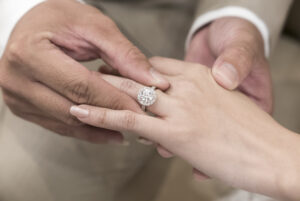 A diamond ring of that size has much value and appears stunning to the naked eye. Nevertheless, it occasionally appears a touch cartoonish, offering an undignified and wobbly Topps lollipop vibe. For your information, Topps manufactures Ring Pop, a line of fruity lollipop products. Many people have surprised their lovers through proposals with these candy-like engagement ring diamonds.
The engagement ring of Silverman is gigantic without a shadow of a doubt. However, its low-profile, elongated and sensuous shape keeps the ring from seeming like an unwieldy piece of jewelry.
Do you want to spend millions of dollars on a piece of engagement jewelry? If so, this is perhaps the way to do so. After all, who would not want to be an affluent person without the capability to splurge for the one they like the most in life?