Diamond rings with bezel settings are one of the most popular settings among people. A bezel setting, unlike a prong setting, comprises a band of metal that completely or partially surrounds the lab-grown diamond, firmly holding it in position. The bezel setting has advantages and disadvantages, and whether or not it is ideal for you is primarily determined by your style and lifestyle.
Types Of Bezel Setting
There are a couple of different types of bezel settings to choose from. While round diamonds are the most frequent in a bezel setting, any diamond cut can be put in a bezel. Any shaped gemstone, such as baguettes, trilliants, hearts, and other beautiful shapes, can be put in a bezel setting by a highly competent jeweler.
A full bezel is one in which the metal surrounds the central stone, completely encasing it from all sides. This setting offers the best security for the stone's edges, reducing the risk of breakage and chipping. Full bezel settings tend to obscure more of the diamond, and eventually your diamond will to be smaller.
The gemstone is just partially encircled in a partial bezel setting. The partial bezel has the advantage of making the stone look bigger and more apparent. Since the sides of the lab-grown diamond are exposed, light can reflect off them, giving more fire and brilliance than full bezel settings.
Benefits Of Bezel Setting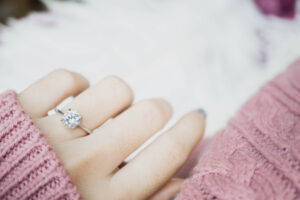 Bezel settings are the safest diamond ring settings. The center diamond is protected from damage by a bezel setting, which also protects the corners from chipping and cracking. This is extremely critical if your diamond shape has sharp edges that are more likely to break.
The bezel setting is suitable for individuals who lead a busy lifestyle and can withstand rough wear because the diamond is properly protected. The lab-grown diamond is unlikely to become loose and tumble out of the setting, unlike prong settings.
In addition to that, bezel settings do not cling to daily goods. If you have to wear latex gloves for your job, a bezel is significantly more practical because it won't snag on the latex. Prong settings are prone to catching on clothing or hair, as well as snagging on daily items, causing damage to the gemstone.
The bezel setting can conceal flaws and inclusions in the diamond's sides. For instance, if the diamond has an obvious crack towards its edge, the bezel setting will be able to hide it flawlessly.